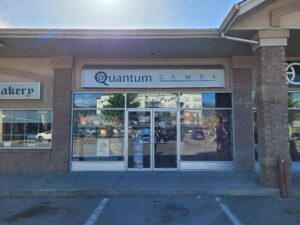 Quantum Games has been in the Okanagan since 1996, quietly purveying a wide variety of Board Games that appeal to all ages. Table top Miniature games – Warhammer 40k, Age of Sigmar CCG – Magic the gathering, Yu-Gi-Oh!, Pokemon, Flesh & Blood, Digimon, Dragon Ball
We take pride in our knowledge of the gaming industry and its workings. We use this knowledge to offer our customers the right products, and expand our product offerings accordingly.
Since 1996, our Company has been growing steadily and it is in no small part thanks to all our loyal customers. We thank you for your support as it is what allows us to be a true game store.
We hold tournaments and weekly events for Magic: the Gathering, Pokemon, Yu-Gi-Oh!, Flesh & Blood and Digimon.  Allowing young and old to socialize and pit their skills against one another.
Of course we would not be as successful if we didn't listen to our customers, and improve as necessary. We ask that you email us with any questions or suggestions you may have. We are always striving to make your shopping experience with us the most enjoyable it can be.